---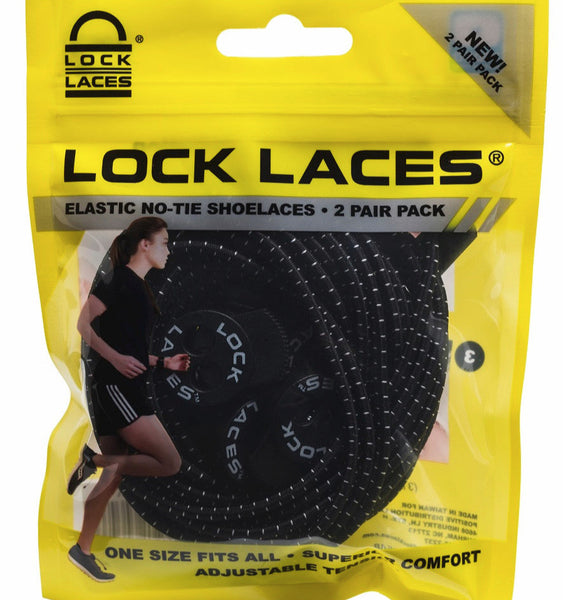 Lock Laces : Black - 2 Pair Pack
LOCK LACES are the ever-popular, original, patented elastic no-tie shoelaces with over 5 million pairs sold worldwide.
Instead of buying just 1 pair, why not buy 2!

Each pack contains two pairs of LOCK LACES. Each pair contains: two 48" elastic shoelaces, two patented double eyelet lock devices, and two cord clips end pieces. 
Product Details
NO-TIE LACING SYSTEM:
Turn any pair of lace-up sport shoes into slip on sneakers. LOCK LACES are the original, PATENTED (US Patent #6026548) no tie shoe laces with over 1 million pairs sold worldwide
STRETCH FIT COMFORT:
Our elastic laces conform to your foot for a custom fit. Added compression reduces pressure points to make your feet feel better throughout the day so you can perform your best!
PERFECT FOR EVERYONE:
LOCK LACES are a great gift for seniors suffering from arthritis or other disabilities, autistic children, runners looking to speed their triathlon transition up, or casual users
SIMPLE INSTALLATION:
One size fits all (kids AND adults), quick to install, easy to use. Each pair is suitable for lacing up 1 pair of shoes. Easy installation instructions and videos provided.
100% SATISFACTION GUARANTEE:
LOCK LACES are guaranteed to last the life of one pair of lace up running shoes. We know that once you try them in your shoes, you'll never go back to traditional shoelaces