---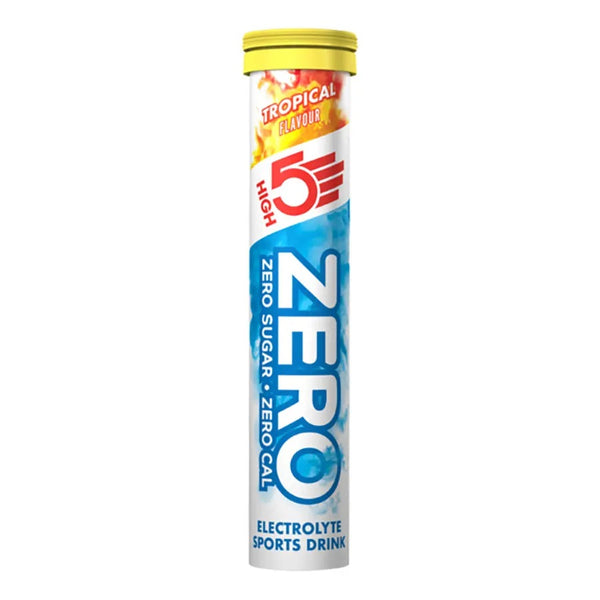 Sale
High5 Zero Electrolyte Drink - Tropical Flavour
High5 Zero is a zero-sugar low-carb anti-cramp electrolyte drink with added magnesium. As a zero sugar low carb drink it's an ideal training drink for people looking to burn fat during their exercise or for use by endurance athletes following a train low, race high approach where you train your body to burn fat by limiting your glycogen levels during training.

One High 5 Zero Tropical flavour tablet makes 500ml of electrolyte drink, each tube contains 20 tablets and therefore makes 10 litres of drink. It is suitable for a wide range of sporting activities such as football, rugby, biking, martial arts, motor racing, running, triathlon, swimming, hiking, aerobics and racquet sports. With a light non-sweet taste, zero can be consumed when working in hot environments such the mining and oil industry, fire fighting and the military.

Product Details : 
Vitamin C and electrolytes calcium, sodium, magnesium and potassium.
Suitable for vegetarians
Ingredients :

Acidity Regulator (Citric Acid, Malic Acid)
Sodium Bicarbonate
Firming Agent (Sorbitols)
Magnesium Carbonate
Sodium Citrate
Potassium Citrate
Natural Flavourings
Sweetener (Sucralose)
L-Ascorbic Acid
Calcium Carbonate
Leucine
Natural Colours (Carotenes, Riboflavins)
Sodium Chloride
Green Tea Extract