---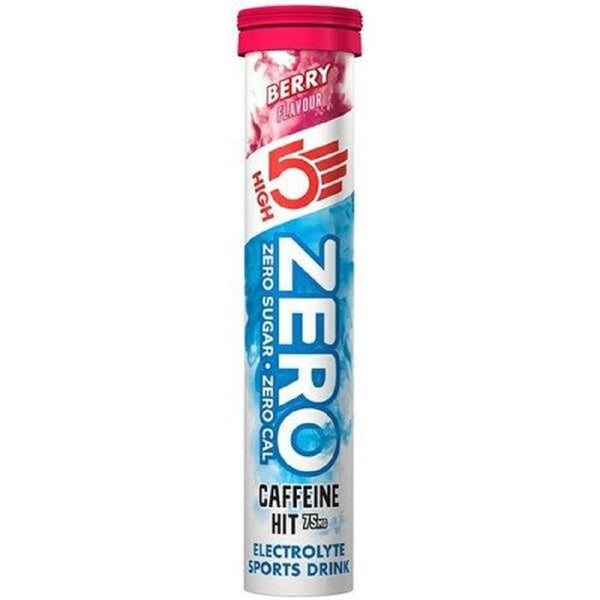 Sale
High5 Zero Electrolyte Drink - Caffeine Hit - Berry Flavour
ZERO Caffeine Hit is the award-winning sugar free caffeine drink. With vitamin C and key electrolytes, including sodium and magnesium, it can be used during exercise to stay hydrated. As well as being suitable for a wide range of sporting activities, High5 ZERO Caffeine will help you stay alert on long drives, during lectures, at work and keep you going night and day. Just drop a tab into water and watch it rapidly dissolve.


Product Details : 
Contains vitamin C and electrolytes calcium, sodium, magnesium and potassium.
Contains 75mg of caffeine, about the same amount as in a cup of coffee
Suitable for vegetarians

Ingredients :

Acidity Regulators (Citric Acid, Malic Acid)
Sodium Bicarbonate
Firming Agent (Sorbitols)
Magnesium Carbonate
Sodium Citrate
Potassium Citrate
Natural Flavourings
Caffeine
Beetroot Concentrate
L-Ascorbic Acid (Vitamin C)
Calcium Carbonate
Sweetener (Sucralose)
Leucine
Black Carrot Concentrate
Curcuma Powder
Colour (Riboflavins)
Green Tea Leaves Extract (Camellia Sinensis O. ktze)
Sodium Chloride

Health Information :
It is not recommended to exceed a daily intake of 400mg of caffeine from all sources (200mg for pregnant or breast-feeding women).